The Leading Showing Feedback System

for Real Estate Agents

Take our feature-rich system and combine that with the lowest price and you got the Most Effective and Affordable real estate showing feedback system on the market.
The Ultimate Showing Feedback System
Enter Your Showings
You or your assistant enters your showings into our online showing feedback software. We send an email to the showing agent asking for feedback on your property listing.
Agent Leaves Feedback
The real estate showing agent answers your specific questions about the property listing using an online questionnaire form.
You've Got Feedback!
View your showing feedback anywhere an internet connection is available. Showing feedback is compiled into graphs for quick and easy analysis.
Let our Showing Feedback System be your Assistant
You'll spend a great deal of time playing phone tag with showing agents, filling out responses on the showing feedback form, compiling the showing feedback data, and manually creating a professional showing feedback report for your seller. You will spend even more time updating your seller on daily or weekly basis, sending price reduction notifications, soliciting offers, and managing your listings, showings, and sellers.
"Our showing feedback software allows Real Estate Agents to focus on what really matters - prospecting, client meetings, and closing deals!"
Automation Tools to Keep Your Seller Informed
Our showing feedback software provides optional automated tools to keep your seller informed:
Give your seller online access to view showing feedback. Seller will login through your own personal login page or from your own website
Automatically send an email to the seller when feedback is received
Automatically send a feedback report at specified interval so you don't have to worry about creating this report manually and sending it to your seller.
"Your seller will know that their Real Estate Agent is supported by a state-of-the-art showing feedback system."
We've Added Time Saving Tools
With the information you enter to receive feedback, we carefully compile that data into reports and information that you can use as management tools to help you best manage your listings, showings, and sellers.
Send Listing Flyer
Professional Feedback Presentation
Price Reduction Notification
Offer Received Notification
Print Questionnaire Form
Highlighted Features
Showings Management with Calendar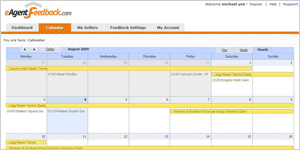 Fully functional and interactive calendar that allows you to easily manage and add showings to request feedback.
All of your showings appear on the calendar allowing you to be more organized and avoid scheduling conflicts.
One-Click Showing Feedback Report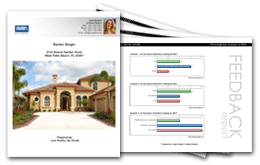 Create a professional showing feedback report in one mouse-click which would typically take you hours! Yes, only one mouse-click!
Impress your seller with this showing feedback report
Use at your real estate listing presentations to impress potential clients and get more property listings.